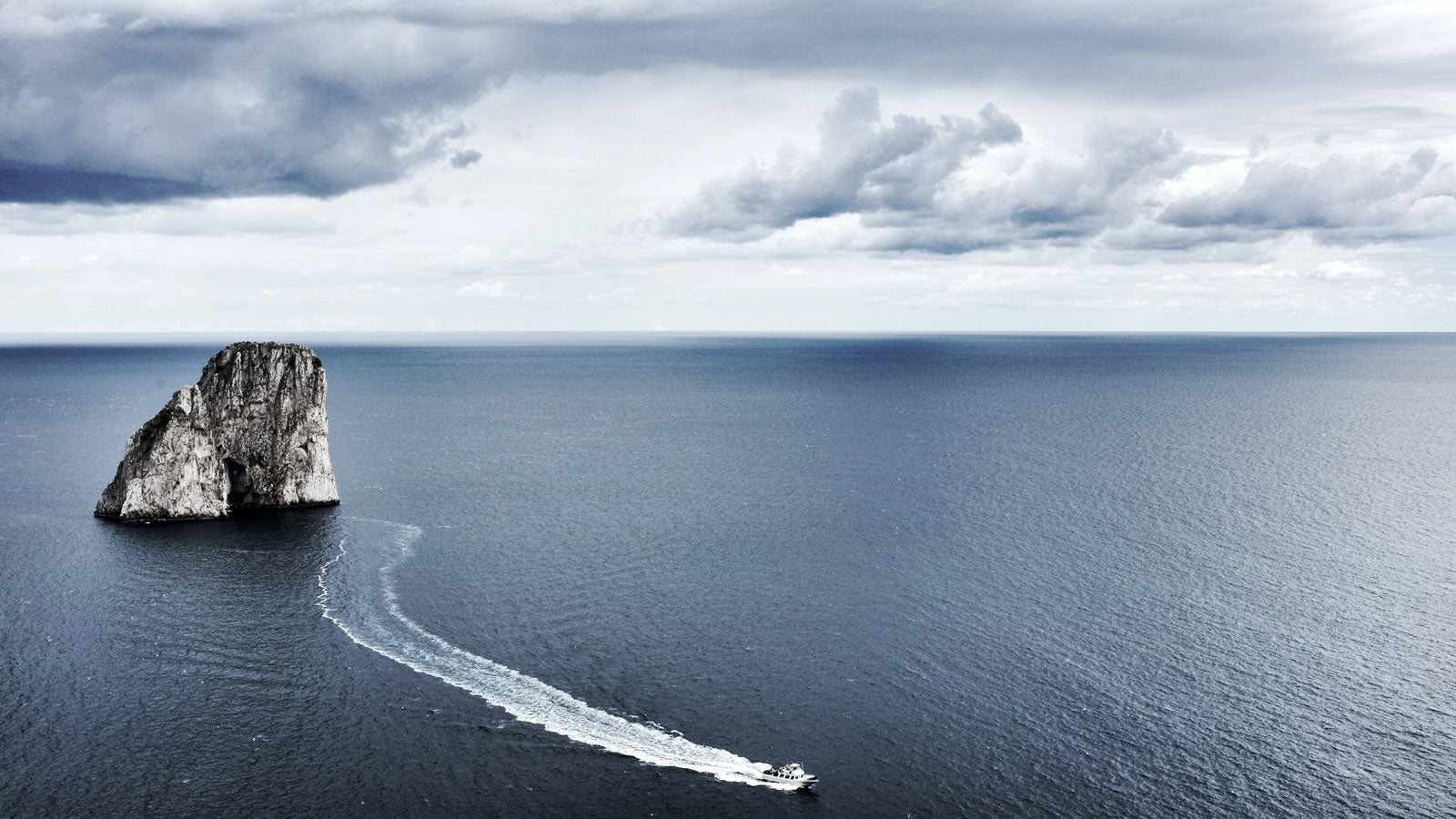 What to Pack for a Vacation in Capri, Italy
The island of Capri, in the Bay of Naples, is a dream vacation for anyone. Visually stunning, it is known for its high-end hotels, restaurants, and fashion. Many tourists flock to the island of Capri every year to explore its rich cultural heritage and beautiful scenery. From the Blue Grotto to the rugged landscape, it is a must-see for all.

A trip to Capri will require a few different items of clothing. While you'll want to look your best, you'll still need a few different style of clothes to be comfortable throughout your stay.
Packing for Capri
Trust me when I say that there is a lot to do in Capri. You definitely won't get bored from boat trips around the island to hiking the hills and visiting cultural hot spots. Depending on the types of activities you plan to do, you will need various types of clothing. Underdressing is not necessarily a problem, but you can have fun with your style and show off your best outfits.
Footwear for Capri
Let's start with the basics. When it comes to footwear, you will want a good selection. Good sturdy shoes will do for hiking and seeing the sights since the best ones are not particularly easy to access. Think about bringing something dressy too, maybe for going out to dinner or dancing. Something light and casual that you can slip on and off like an opened-back canvas or flip-flops will cover your chill days around town.
For women: you may want to consider some handmade leather sandals while there, but bring along a pair you have worn before, as the new ones may chafe and cause you pain.
For men: avoid sandals unless it's Birkenstock. Opt for boat shoes like Sperry or Timberland while sticking to flip-flops if you want to feel your foot free and comfortable. 
Apparel ideas for Capri
Men's - (Women's section is below)
First thing first, tailor your wardrobe around your activities. If you already have planned out particular activities, make sure to bring the necessary for those since you may not find the required technical attires for purchase on the island. If you want to seize the opportunities while there, make sure to pack a good assortment of styles.
T-Shirts, Polo Shirts and Dressy Shirts
Starting with a casual look, men should always bring a few T-shirts. Casual T-shirts in cotton are a perfect choice. They are relaxed and comfortable and, in case, they wash up easily. To keep it classy, stylish, and in line with the island vibe, I recommend choosing solid-colored t-shirts while avoiding graphic tees or t-shirts with excessive printed designs. That being said, it doesn't mean you can't have fun with them. Bring a couple of classic navy or white t-shirts but consider brightening up your look with some colorful options.
In Capri, you can wear your t-shirt both with shorts or long pants depending on the occasion. You can also consider wearing one under a jacket or blazer if you have dinner plans and want to look casual-chic. They are very versatile and will get plenty of use.
Polo shirts will also do well for a day outfit. If you plan a stroll around or a nice walk by the shores, a polo shirt could be a primary choice. Because of the heat of the summer, make sure to pick a lightweight pique polo shirt since you most definitely don't want to overheat. So leave your RalphLauren thicker units at home and opt for a more summery choice. Like t-shirts, avoid overly graphic or patched polo shirts; those do not go well in a posh-y environment. Instead, consider picking plain yet colorful alternatives. Yes, colors will definitely do well there.
Consider pairing your polo shirt with a nice pair of shorts and lightweight shoes for the overall style. Toms are not my favorite, but they will do. 
At a certain point, you will also need a long-sleeved, dressier shirt. Maybe you have dinner plans or get invited to a party on a yacht on the coast; yes, that can actually happen. Given the heat and atmosphere, you won't go wrong with a linen or cotton voile shirt. Linen is breezier and does better with handling sweat, while voile is even lighter. These linen shirts will be an excellent choice. Available in a wide range of colors, why not bring a few? Comfortable and light, they can be worn in the day, as evening wear and over your swimming trunks. Linen helps keep you cool and never goes out of style.
Pair your shirt choice with a pair of long pants or sleek shorts. Generally speaking, long pants will do better if you are off to dinner or a party. While, if you are off to a happy hour event while the sun is still out, you will be better off with shorts.
Pants
When it comes to pants (trousers for our British friends) and shorts, you should take a few pairs of quality, well-made ones. Given the warm summer, climate lightness will be of the essence. You will need shorts for sightseeing, hiking the island hills, and strolling around town. You can wear them all day, and they go well with T-shirts or even linen shirts. Remember to pack long pants too. A pair of dungarees or blue jeans can be helpful, as will regular pants. Unless there is a dry cleaning service at your hotel, you may want to consider something easy to wash.
Color-wise, light khaki or white pants will go well with your colorful shirts, but a pair of denim jeans will be helpful for the trip itself and play backup in case of stains on the light ones. As an additional note, consider that local Italian men like to wear colored (usually red or blue) cotton slacks as a regular type of trousers, if you want to blend in, keep that in mind.
Sweaters and Jackets
It may seem odd you need a sweater in such a climate, but the evening breeze and the early mornings will change your mind. You won't need a fleece or anything like that, but a light cotton layer will keep you comfortable and in style. For the evenings, for the yacht, for your early morning walk, or just because you will be happy to have a nice sweater to wear. You can't go wrong with a lovely v-neck lightweight sweater. They go with jeans or dress pants, over a T-shirt or collared shirt and keep you warm and look great. You can choose to match the color of your underneath shirt, or you can go bold with a well-fitting color.
Jacket-wise, if a blazer + t-shirt is your style, that should be the only jacket you bring. Otherwise, a cotton bomber jacket will also come in handy and keep you in style. Button fasteners, soft cotton, and large pockets have ribbed cuffs and waistband with tartan lining. Don't forget to bring a light, waterproof layer. You might need that for day-long boat trips. If you don't have this kind of jacket, plenty of stores on the island will provide you with a good selection.
At Ploumanac'h we create colorful resort wear made in Italy. If you are missing any key units for your next trip to Capri, we have put together a selection of shoppable items you might find useful. 
Women
Ladies, regardless of your plans, you are in for a treat. Capri is a great place to show off beautiful, classy outfits day and night. You will want items for daywear, evening wear, and beachwear. You also need to consider staying cool during the day and keeping warm in the evening breeze. Let's dive right into it.
Shirts and Blouses 
Capri is no office, but the style of a shirt will come on vacation with you. Shirts and blouses are a simple choice, great for traveling. A quality blouse or shirt will be invaluable on a trip to Italy. This ¾ sleeve voile shirt is ideal. You can wear it with everything and use it every day. Casual enough for sightseeing and nice enough to go out to dinner in. It's all cotton and very light and comfortable. They come in several colors, so take a few with you.
You can wear your shirt with jeans and sneakers and a long necklace and matching earrings to arrive on the island with an unmistakable style statement.
Another type of top that will do well in Capri is a shirt-cut tank top like this fil coupe tank top. All cotton with a scooped neck line, this kind of tank top does very well in the heat, yet it still makes you look fine even with your shoulders exposed. You can wear this with pretty much anything and look sharp for any occasion. Pair it with long pants, a skirt, or shorts, to complete the look. Keep in mind that while it is versatile, it may not be the best choice for the evening, so keep in mind to use it for the day only.
Dresses
Dresses are going to be your most fun pieces. Go bold and pick up some color because the first thing you will notice is that people in Capri love it to color it up a bit. Naturally, you can always bring a black dress for the night, but consider that you can relax a bit on this island and dress up for some more fun. You want to consider day dresses and night dresses when it comes to dresses. Day dresses should be light yet not too revealing; best if they are breezy and colorful. As an example, you can check out these shirt-dresses in linen. Wear them over your bathing suit, around the hotel room, and add a belt to go out for lunch. They are so versatile you will fall in love with them. For the evening, consider something long and flowy. Darker shades will do well, but some bold hues may give you that extra glow. Remember that lighter hues do better if your skin tone is not too pale.
Pants and Shorts
Consider bringing at least one pair of loose-fitting, casual billow pants in linen or viscose. Why? Out of all the various outfits that will expose your legs, you also need something that keeps you cool yet covers up your skin if it gets red after a day or two of intense sun exposure. (Remember SPF)
That said, it's better to have something soft, breezy, and not too tight. Otherwise, you will feel your legs irritated way too much.
When it comes to shorts, you can choose whether to go classy with a mid-leg length or keep it young with those extra short shorts. There is no restriction on the length, so it depends on your style.
If you are unsure what to go with, you can check these linen ones that you can carry both "longer" or roll them up (as they are intended to) for a 100% summery feel.
Jackets
Lastly, jackets. In the summer you won't have to worry about cold weather, but, as I mentioned above, there is usually a breeze at night. I like to consider jackets as an alternative to sweaters in this kind of context. Mostly because everyone will have sweaters on at some point of the night, and having something different will make it a fun statement.
This pique cotton bomber jacket will keep you warm and fashion-forward. All cotton, it is soft and comfortable and very versatile.
Save Room for More
You will want to seek out some of the high-end fashion shops while you are there, so save room in your suitcase. You will have to buy a pair of Capri sandals and perhaps a personalized bottle of artisan perfume, so you can remember your trip long after you have returned home.